ELEARNING APP DEVELOPMENT
eLearning is the future and a billion-dollar business idea. We create Powerful e-learning solutions, learning management system, M-Learning App, mobile learning app development, custom e-learning development for students and school education apps packed with powerful features, interactive designs and great simplicity.
Unique Features of Our E-Learning App
BUILD E-lEARNING APPS FOR THE FUTURE GENERATION
Study Programs
The learner has to select the course in which he/she wants to enroll. This feature also helps the learners to view the list of courses along with its progress of completion, start dates, end dates, and other details.

Virtual Classrooms
Experience the classroom digitally through our amazing virtual applications. Learn from anywhere without missing valuable lessons

Streaming Videos
Watch clips on everything to observe experiments, demonstrations, practical applications and complex concepts in simple illustrative videos

Protecting Content
Content is the key to educational business. Our apps have many layers of protection to ensure that your content is properly safeguarded

Assessing Online
Assessment is a benchmark of a learner's progress. Assess your student's progress online through digital testing platforms, responses, etc

Clear User-Interface
Our designers go right into the user's shoes to give the best user experience for the learners and course coordinators, educators, etc .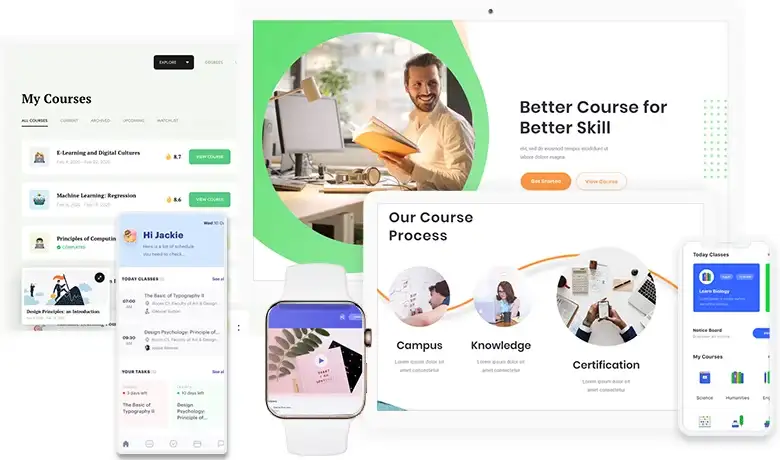 Learn with e-learning application anywhere, anytime
It's time to go break the barriers of place and time in spreading knowledge. Create e-learning apps that will make children fall in love with learning. Apps that will help educators, teachers, motivators and academic experts collaborate with learners. Read e-books, carry out assessments, monitor progress and much more with our e-learning apps for all levels of education.
Our vision is to create a world where learning on-the-go is as easy as browsing on the internet. Know it there and then, whatever you wanna know. Meet with teachers, consult with the best education experts from various streams and disciplines and much more. We offer you the best of developers with a decade plus experience and expertise in designing, forging and delivering successful mobile apps for our clients around the world.
Why Brixcode Is The Right Choice For
Wondering why outsource your grocery delivery app project to us? Well, we have an expert team of skilled programmers and designers with extensive experience in a wide variety of industries. Here are some other reasons.
User-friendly development
Our apps are easy to use and attractive enough and designed to provide the maximum user-experience every time.
Multi-platform Development
Based on your specific requirements, we can develop grocery apps for Android or iOS or cross-platform apps that support both systems.
Competitive Pricing
Our app development packages are designed such that we can maintain quality while keeping the price most competitive in the market.
Feature-rich Apps
Whether you are looking for grocery app development with the basic features or an advanced fully-featured app, we can develop it for you.
Interview and Hire
We enable our potential clients to interview and compare from our team of developers, designers and choose the best candidates for their particular project.
Flexible Contracts
Whether you're looking for a long-term professional relationship or want to hire developers for just one project, we have flexible options.