ON-DEMAND TAXI BOOKINGAPP DEVELOPMENT
Get a customized fully-protected digital wallet app, e wallet application and mobile payment app. Brixcode Technologies offers feature-rich and fully-protected eWallet Application Development Services for Android, iPhone and Wearable Devices.
Core Features
Features that make your app stand out.
Next-Gen dispatch software
Running a business requires right tools. We build next-gen dispatch software that keeps your business running.

Detailed Fares
Configure your fares and share with your customers even if the trip cost calculation is off.

Right tools for automation
Automate everything - your orders, bookings, drivers, customers & data with a centralized portal & app.

Multiple Channels for Drivers
Classify your fleet in drivers in different channels, making it easier for customers & drivers to choose their ride.

Rating and Reviews
Keeping your customers happy & your drivers motivated becomes easy with an advanced Rating & Review System.

Configure Multiple Rates
Configure different rates as per vehicle and destination. Manage the rates & fares from easy-to-manage backend.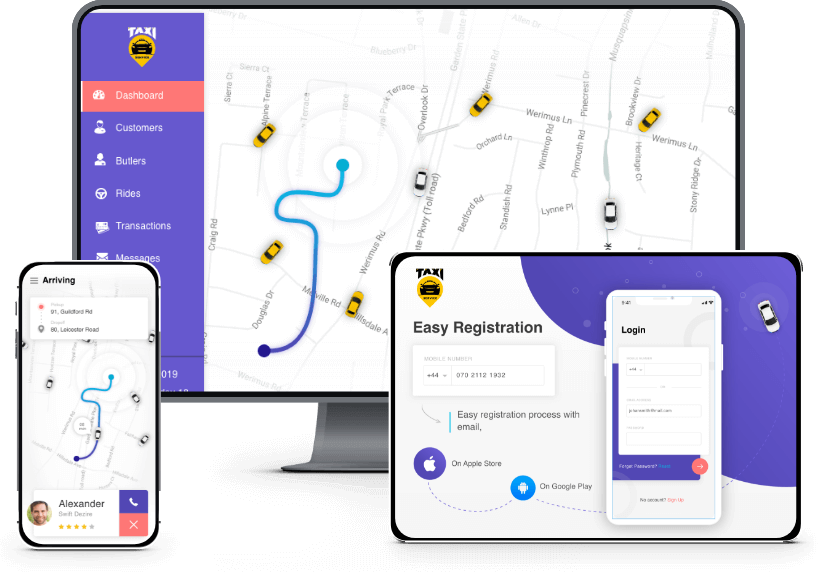 An Intelligent Taxi App Solution
It's the rule of the world, in order to outdo your competitors you've to find an epicenter of disruption, a unique selling proposition, and a fresh design language that is bold, confident and dynamic. Codiant's taxi app development solution comes as a rescue in the race of modern transportation systems. Fostered by growing complexity of taxi transport dynamics, our optimized taxi app solution drives an extensive set of superlative features developed in accordance to rising passenger's demand and driver's needs.
Our End-To-End Solutions
Customer Obsessed Solutions That Drive Simplicity
Integration of NFC (Near field communication)
A highly secured communication protocol for contactless payments between a POS device and NFC enabled smartphone.
Bluetooth And iBeacon Technology
iBeacon- A Bluetooth wireless technology used for fast payment transfer n e-wallet application development
QR Code Configurations
QR scanning feature to increase the efficiency of payment infrastructure. Do seamless payment transactions by scanning a unique QR code.
Payment App
Payment apps are a great alternative for cash payments and a robust solution for businesses.
Digital Receipt
Generate and send a digital receipt on the email, in-app or the phone number after every transaction.
Secured Transactions
Password protected app with Digital Signature that adds an extra layer of protection, keeping your money safe.