eCommerce Website & Mobile App Development
eCommerce is growing big each day. The technological competence and amazing reach introduced by eCommerce platforms has added a new facet to the buying and selling practices. No matter what product or a service you are dealing in, with eCommerce solutions available today you can get best of the theme, functionality, features and support services to help you keep-up with your audience most effectively.
eCommerce Website & Mobile App Development
Brixcode Technologies, as the best e-commerce mobile app development company, builds mighty on-demand e-commerce applications to mobilize your business. Our e-commerce application development services are highly reliable and of world-class quality. With a team of experts, we craft the best ever mobile applications to support your online business. E-commerce mobile apps have become an important medium for sales. They are helping businesses widen their reach and connect to customers worldwide. So the demand for e-commerce app development is significantly high in today's world.
Our years of experience in mobile app development is a promise to deliver the best products for our customers. We have carved our name in the industry among the finest ecommerce app developers. The apps we designed for our prestigious clients will draw a picture of how good we are at doing our jobs. We use the latest technologies to build applications that enable our clients to stay ahead of the curve. If you are looking for a reliable company to create an e-commerce app for your business, get in touch with us.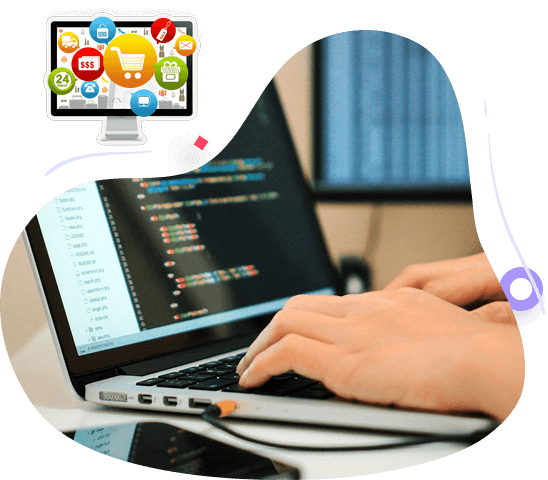 Our E-commerce Applications Are
Feature-Rich and User Friendly
We build and deliver custom travel and hospitality software solutions that effectively address the technical challenges faced by travel, hotel and leisure industry.
Seller app
Seller app for the sellers to manage their sales with an easy to handle app
Multi vendor inclusion
Multi vendor inclusion is possible by integrating this feature to the application
Wallet options
Wallet integration to the application made possible through this feature
AI integration
Artificial intelligence can also be integrated to the app to provide advanced user experience
Customer service
Customer services can be added to enhance the user experience
Customized user dashboard
Each user will get a personalized dashboard with the help of this feature
Daily deals
Daily deals can be showcased in the app to attract the users attention
Wishlist
The products that you wish to buy can be added to the wishlist for future updates
Store pickup
Store pickup feature will enable the products to be picked up from stores directly
Credit facility
Credit facility is now available in many sites to help the users with purchases
EMI facility
The payment can be divided and done as installments with this feature
Live location
Rides can be cancelled using this feature in case of emergencies